_ CASE STUDY
How Adevinta Revolutionized Its Data Solution With a Cloud Migration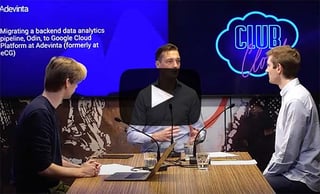 Cloud migration is often a complex and invasive project, so it's no wonder many organizations struggle with the move. But our work with global classifieds specialist Adevinta proved the switch is almost always worth it.
How did they manage the migration without mistakes that would jeopardize their data's accessibility? Find out in this article or watch the talk with Charlie Evans and Diederik Greveling.
_ WORKSHOP & SESSIONS AT EVENTS
Adventures in Sharing Knowledge:Berlin, Switzerland, Poland, and the USA

There's nothing we love more than sharing knowledge, and it's even better when we can combine that with exploring different places and meeting interesting people, like you, face-to-face. With events re-opening up around the world post-COVID, we were thrilled to do both again this spring.
We headed to the PyConDE & PyData Berlin 2022 for our biggest event in April, where we presented sessions on Slackbots and Streamlit Dashboards and hosted a Time Series workshop. Everyone there was invited to participate in our coding challenge "DropBlox" — which was a huge hit! George Chanturia took the prize, while many others tried their luck with our Wheel of Fortune game of chance.
Our all-things-data "world comeback tour" also took us to Switzerland and Poland, where we hosted workshops and sessions at Applied Machine Learning Days in Lausanne and the Big Data Technology Warsaw Summit. We even crossed the ocean to participate in PyCon US in Salt Lake City, Utah.
If the thought of bumping brains in person with other data-enthusiasts appeals to you as well, then join us at our brand new office in Eindhoven for the first Meetup of the Eindhoven Data Community. 🎉 In this first edition, Xander Schevenhoven, a data scientist at Jumbo, will share how the huge grocery retailer uses Databricks. What's more, Databricks and GDD's own data-hacker Niels Zeilemaker will dive into the San Francisco-based company's latest development: Data Live Tables (DLT).
Register for the Eindhoven Data Community Meetup >>
_SOLUTIONS
The Architecture of a Modern Data Platform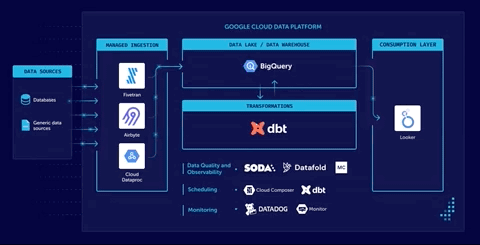 Since modern data platforms have become so much more complex with many different moving parts, we launched a super-smart solution based on our years of experience. The GDD turn-key data platform can be implemented quickly and efficiently, which gives our clients a shorter time-to-market and a greater competitive edge. Learn more about it here.
Discover the modern data platform >>
_ANALYTICS TRANSLATION
Analytics Translator in Practice: Google Translate Analogy
Did you know that 85% of data science projects fail to deliver? Analytics Translators can solve this!
Listen as our newest (lead) Analytics Translators Iris Snuverink and Mahmoud Khodier explain how they can drastically increase the success rate of your data & AI projects. 🚀
Get success with your Data & AI projects >>
_ 13 Sep – 22 Nov 2022
12 Weeks Data Science Bootcamp: Starts in September
Do you want to learn how to successfully apply Python—"THE" programming language for Data & AI? Our 12-Week Data Science Bootcamp shows you how. Learn everything there is to know about being Data-Driven and leave the program proudly as a certified Data Scientist.