_ STRATEGY
The AI Strategist
Leveraging artificial intelligence has a lot of consequences for organizations and their business processes. The entire change process goes beyond just implementing tooling and technology. Steven Nooijen explains what traits make a good AI strategist and how it helps the organization to succeed
_STRATEGY
Turn-Key Cloud & Data Solutions
A modern data platform consists of many different components. Thanks to recent technological developments, turn-key data platforms are now available for any organization that is ready to adapt rapidly and grow with certainty. In this article, Niels Zeilemaker and Diederik Greveling discuss the characteristics of a modern data platform.
The Benefits of GoDataDriven's Cloud & Data Solutions:
A standardized platform which remains flexible
Infrastructure as code
Our focus is on self service tooling
Reduce cost by splitting compute and storage
Roll out multiple instances of the same Solution
Executed by the Best in the Business
Support when you need it
Build further on our code
_ EVENTS
AMLD 2022 & PyData Berlin 2022
After hosting a workshop room dedicated to AI Maturity during the Applied Machine Learning Days in Switzerland, we are now getting ready for our next event: PyData Berlin.
What to Expect at PyData Berlin (April 11 – 13)
Check out the PyData Event Website >>
_ NEW OFFICE ALERT
GoDataDriven Expands Into the South of the Netherlands: Eindhoven
Since 2009, we've been empowering enterprises to turn technological disruption into growth by becoming data-driven. As of April 1st, we will be servicing organizations in the south of the Netherlands from our new Eindhoven office!
_ EVENTS
GDD Friday & CodeBreakfast: MLOps IRL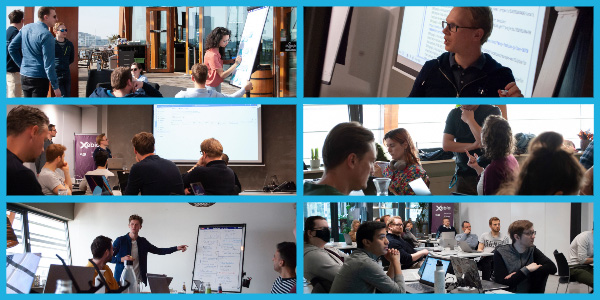 As if it never was any different, our office is home to many events. Exactly like it should be! We've hosted two CodeBreakfasts, covering Data Mesh and MLOps. We also had a great time during our periodic innovation day 'GDD Friday'. Interested in our events? Make sure to follow us on LinkedIn.