Here's a few highlights of our November month:
GoDataFest 2021


During GoDataFest, Danone, Heineken, Interfood, Ahold, Bol.com, Funda, Picnic, Schiphol Group shared how they are leveraging the benefits of a data-driven way of working, accelerating their business with data applications, and changing how they are organized.
Leading and emerging data tech providers shared insights into their latest developments. From AWS, GCP, Microsoft, and Databricks to NATS, Coiled, SODA, Fivetran, and dbt.
CHECK OUT THE RECAP
A Modern Data Platform for Pathé


With its new modern data platform on Amazon Web Services, Pathé is able to tailor the visitor experience for its 15 million yearly visitors and optimize its business processes with data it collects from multiple sources, such as website, app, cash register systems, and external data that may affect the number of visitors.
"Data helps us better understand the member life cycle and retain members."

– Rick Stammes, Business Analyst at Pathé.
READ THE ENTIRE STORY
Data & AI Strategy: What do a restaurant and AI strategy have in common?

Senior Strategy Consultant Steven Nooijen has been closely involved in dozens of strategy development and execution projects. Today, Steven shares a few articles with some of his sharpest insights and revelations.
Let's kick it off with the Restaurant Analogy, which compares AI Maturity with the operations in a restaurant. Has this set your taste buds tingling? Then get started with the AI Maturity Self-Assessment, and the three-step approach to become (more) data-driven. As a dessert, enjoy how Randstad & Eneco matured their level of AI proficiency.
Webinar Data Democratization, Wednesday 19th of January 09:30 – 10:30 AM CET


Join this webinar on Wednesday, January 19th from 9:30 AM to 10:30 AM CET to learn how embracing analytics throughout your organization expedites decision-making and facilitates the creation of business value.
REGISTER FOR THE WEBINAR
Editor's Picks
Data Survey 2021/22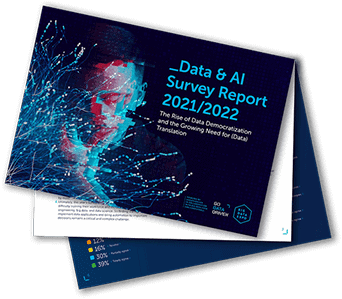 Download this report to gain insight into the latest developments and trends for data-driven organizations.
DOWNLOAD NOW
Data Democratization

Download this report to gain insight into the latest developments and trends for data-driven organizations.